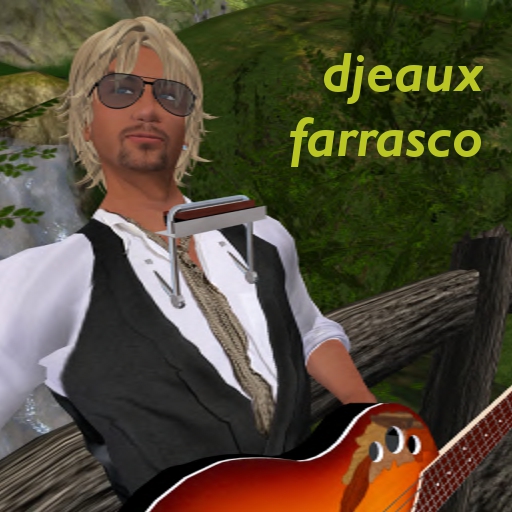 This page contains links and information for friends & fans
of Second Life performer & disc jockey Djeaux Farrasco.
Mississippi native Djeaux Farrasco has played BBQ music for over 40 years and brings this unique blend of Americana to Second Life both as a live performer and as a disc jockey. His live sets include covers of songs by artists like Bob Dylan, Neil Young, Kinky Friedman, and John Prine, arrangements of traditional folk and blues, and his own original compositions. As a disc jockey, Djeaux spins playlists that run the gamut from Charley Patton and Howlin' Wolf to Southern Culture on the Skids and the Monkees.
So what is BBQ music? Catch a show and find out. The secret's in the sauce!
Inworld video by Geo Meek.
Second Life Performance Calendar
Times are shown "Second Life Time" (U.S. Pacific). Don't use Second Life? No problem! All broadcasts may be heard here by clicking the "listen" link & loading the Shoutcast stream in Winamp.